Givens LifeMinistries
Givens has reached out to improve the quality of life for individuals, families, and communities facing health and wellness challenges since the 1980s. Givens LifeMinistries serves our affordable communities by providing residents access to a community nurse and resident services coordinators. This collaborative housing with supportive services team approach is foundational to keeping residents educated, actively engaged on and off our campuses, and empowered to make life and health decisions that improve their quality of life and keep them safely aging in place.
As the outreach division of Givens Communities, we also actively work in other affordable communities throughout Western North Carolina to address health disparities of underserved, diverse, and vulnerable populations by providing access to resources that empower improved wellness and quality of life. Focusing on whole-person wellness, Givens LifeMinistries partnerships and outreach have helped provide free health screenings, chronic disease self-management programs, nutrition presentations, wellness coaching, and wellness education programs that impact our residents and touch more than 6,000 lives across 13 counties across Western North Carolina annually.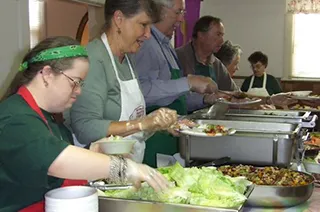 How we help
Through partnerships with non-profit healthcare providers, university nursing programs, Council on Aging, and other community organizations many healthcare challenges can be met. Providing a caring presence and delivering programs in affordable communities across our region eliminates transportation challenges and increases the opportunity for individuals to easily access needed education and services within their own communities, empowering them to experience their best health as they age in place.
Our outreach programs make a difference. Givens LifeMinistries has established other outreach programs that address and prevent health disparities across the lifespan.
Serve families struggling to acquire necessary equipment, diapers, and clothing for newborns and young children.
View Website
View Locations
Learn how LifeMinistries can help your program.
If you are interested in hosting a wellness presentation, health screening, congregational or community wellness event, please call us.
Partnerships
As an extension of our outreach efforts, we partner with other nonprofit organizations to reach those who need it most in our community. Supporting our community is the Givens way.
UMAR is a nonprofit agency of the Western North Carolina Conference of The United Methodist Church that promotes community inclusion, independence, and growth for adults with intellectual and developmental disabilities. Partnering with UMAR, Givens provides the land and infrastructure support for a group home so that developmentally challenged residents can live safely in a beautiful, nurturing environment.
MemoryCare, a nationally recognized program for comprehensive, outpatient dementia care, is located on the Givens Estates campus. This community-based, charitable organization is uniquely focused on serving the whole family. Each year, MemoryCare provides care for over 1,000 individuals affected by dementia and over 3,000 family caregivers, regardless of their ability to pay for services. About five percent of MemoryCare's patients reside on the Givens Estates campus, and the rest are from across Western North Carolina. Givens is proud to be able to support MemoryCare and their mission through this partnership. "All of us at MemoryCare are grateful for Givens' generosity in providing space on their campus for our independent nonprofit as part of their community outreach." -The MemoryCare Team. Learn more about MemoryCare at www.memorycare.org .
A member of Feeding America, Mountain Area Nutritional Needs Alliance is a private, not-for-profit service organization working to end food insecurity in 16 counties of Western North Carolina. Givens purchases groceries and staples through our Resident Assistance Ministry gifts to help our lower-income residents with nutritious meals and basic staples.Through Vespers Offerings and grocery purchases, Givens has directed $57,261 to MANNA.
Spiritual Care
Givens' spiritual care department supports ecumenical worship and opportunities for growth on all four campuses and expands into the larger community.
Givens respects all residents' and staff members' beliefs and spiritual journeys and offers non-judgemental support. Givens supports the spiritual needs of residents, including those at home, in the hospital, or in other enhanced care settings by providing meaningful support to people across faiths who are affected by stress, loss, and death. Our chaplains lead worship and various workshops and are available to counsel and assist families in planning for memorial or celebration services.
We welcome the contributions and talents of residents, such as Barbara Turner, a chaplain trained in the Jewish faith who has graciously and generously helped expand the spiritual offerings on the Givens Estates campus. Click below to read her story.
Organizing weekly worship service opportunities for the campuses.
Organizing special times of worship throughout the year.
Assisting residents, staff, and their families in spiritual wellness.
Facilitating spiritual formation groups and Bible studies
Ministering to residents experiencing transitions or critical needs.
Helping with the end-of-life plans, as well as preparing for and leading memorial services.
Ministering to Givens staff members and their families as needs arise.
Visiting residents and staff members in the hospital and their homes.
Working with the Spiritual Life Committee and Chapel volunteers.
The Horace E Bell Memorial Garden and Columbarium on the Estates campus are available for all residents.
We desire to offer meaningful support to people of all faiths who need spiritual guidance or counseling during a time of soul searching, transition, or loss.
Reverend Brenda K. Lewis, Director of Spiritual Care at Givens Estates
Reverend Hunter Preston, Director of Spiritual Care at Givens Highland Farms
Reverend Kelli Mullinix, Spiritual Care Associate
Christine Weinerth, Spiritual Care Administrative Assistant
DO YOU HAVE QUESTIONS ABOUT GIVENS SPIRITUAL CARE?
If you'd like to reach out to a member of our Spiritual Care Team, call us.